Deliverables. The plan is to provide deliverables that document the projects research progress, as well as ideas and experiments. This month I am delivering; 1) 4* web pages and 2) Report 3) appendix of images.
An example of "an interactive panoramic Web VR browser experience".
http://wademarynowsky.art/ANAT-ideate/terrarium.html
http://wademarynowsky.art/ANAT-ideate/terrarium2.html
http://wademarynowsky.art/ANAT-ideate/terrarium22.html
http://wademarynowsky.art/ANAT-ideate/TerrariumPine.html
'Terrarium1-4' are interactive audio-visual 3D worlds created for the browser. The pages are representations of what could be used in the final works.
The websites use advancements in Web VR and 3D by using Three.js by Mr Doob. Also the 'worlds' open source repository on GitHub created by Marpi.
People using the pages can scroll to zoom in and out or pan to navigate, click to advance.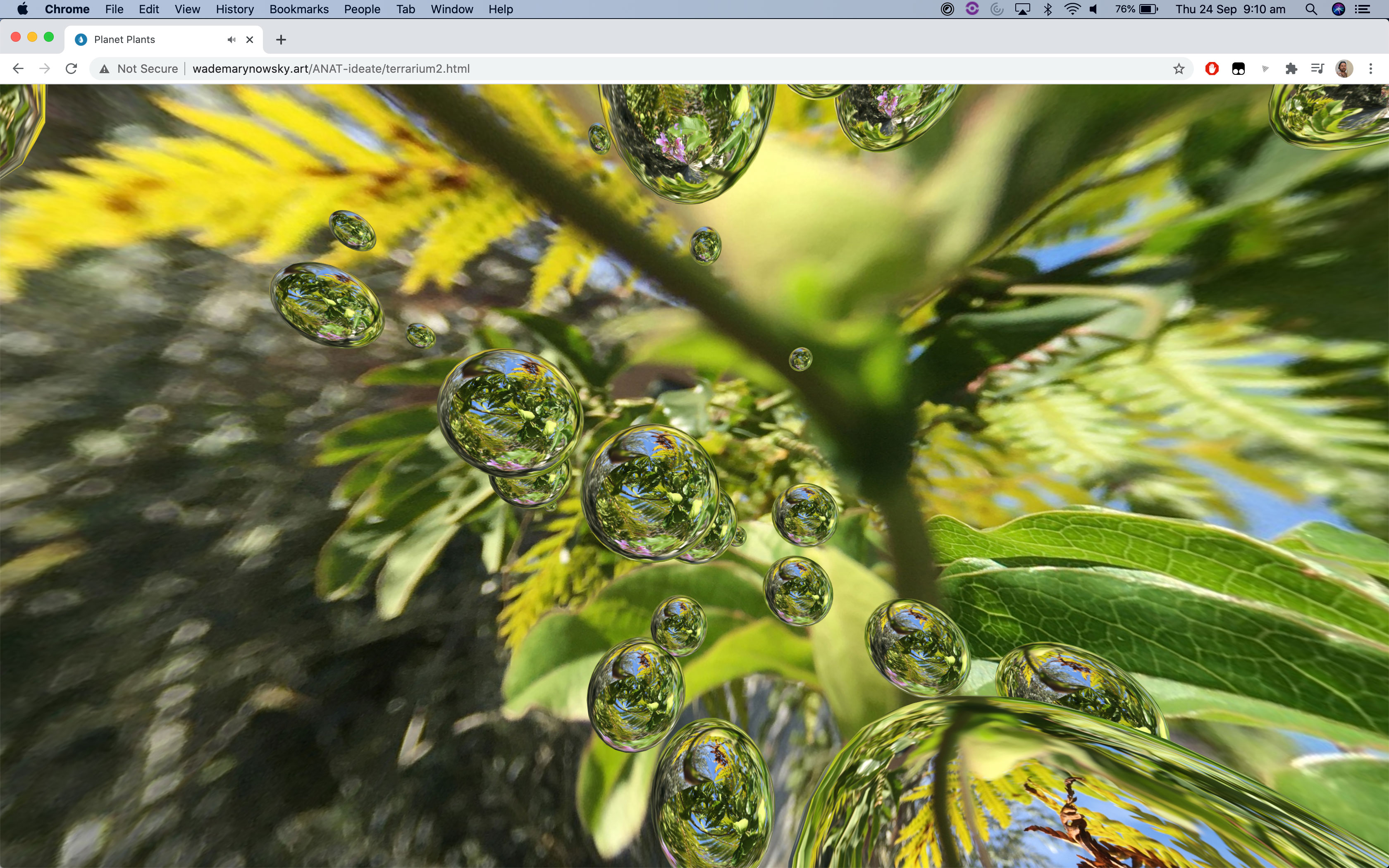 Terrarium 2 site: http://wademarynowsky.art/ANAT-ideate/terrarium2.html
This report documents my research for future use and for the projects development.
Research, Part 1: Build an environmental monitoring prototype starting with a weather station to collect micro-climate data. After researching various websites to build my own weather station such as The Raspberry Pi website: and the Core electronics site: I decided to purchase some equipment, from the US company Seed Studio I purchased a Raspberry Pi 3 Model B+, a Grove Pi+ and 2 Temperature and Humidity Sensors. The total cost including the international transfer fee was AUD $155.48. Locally I purchased a 32gig SD card and USB card reader for $34.95 The card was flashed with the Raspberry Pi OS. Unfortunately, I did not consider the delay and due to COVID and currently the item delivery date is "on its way".
Once the Raspberry Pi delivery arrives, I plan to install a Python library available on Github called Mycodo. "Mycodo is open source software for the Raspberry Pi that couples' inputs and outputs in interesting ways to sense and manipulate the environment". The software has been used to grow food plants in a hydroponic system as well as mushrooms, etc.
Research, Part 2: Solar smart sculpture research, I have been researching various public art as renewable energy systems. Most notable are the projects listed at the "Land Art generator" website. I particularly enjoy reading the pdf "Field Guide to Renewable Energy Technologies 2nd Edition"as it lists a wide range of renewable energy techniques, devices and art projects. I have plans to create my own renewable energy sculptures and I am currently looking at alternative materials and various methods for sun tracking and power storage.
Research, Part 3: Mycology ecosystem. I am currently preparing my site, materials and tools for my Mycology ecosystem. Milkwood Permaculture leaders Nick Ritar and Kirsten Bradley have great resources on creating the right environment for growing mushrooms. Additional recourses on an automated version are here: http://www.mycoblog.com/martha-build/
A Japanese artist on Youtube makes "Kinocorium" which are inspiring time-lapse videos of mushrooms growing. "The Kinocorium" (mushroom terrarium) is a terrarium in which mushrooms are grown in a glass container and it is an artwork at the same time".
I plan to purchase mushroom grow kits from Aussie Mushrooms when the humidity is higher, later in the year. I have done some time-lapse tests with my GoPro and have the settings programmed and saved.
Research, Part 4: Aquaculture ecosystem
I am currently preparing my site, materials and tools for my Aquaculture ecosystem. I need to do more research and either move to the site or have it ready for remote control / automation. Some suppliers selling kits in Australia are Mr Aquaponics and Murray Hallam's site.
Research, Part 5: Permanent culture site preparation
I have started preparing my permanent culture site in Nowra, I began by removing unwanted trees, grass and weeds. I then started planting trees, creating garden beds and various zones. The various garden zones that have been created at the site include the Australian native plants zone, the Rainforest zone. Orchard zones, Herb garden, Vege garden, Aquaculture zone and Mycology zone.
At the front of the house is the Australian native plant zone, this has been established to attract birds, bees and insects, at this stage I plan to put the Apiculture system here so that they have native pollen to feed on. Additional Bush foods will also be planted here and sourced from the La Perouse indigenous plant nursery. https://www.indigigrow.com.au/
Also, at the front is the Rainforest zone, more like a sub-tropical zone, reminiscent of the local bush walk along the cliffs and river. This is the zone with the most afternoon shade. At the back of the house are the Orchard zones, Herb garden, Vege garden, Aquaculture zone and Mycology zone.
A list of trees and plants, planted their zones so far:
Australian Native plants zone trees:
Lilli Pilli – Cherry surprise (acmena smithii)
Grevillia 'Superb'
New Zealand Xmas bush (metrosideros thomasii)
Heath Banksia (Banksia ericifolia)
Purple one?
Common Myrtle
Midyim Berry (Austromyrtus Dulcis)
Rainforest zone trees and plants:
Tree Fern (Cyathea cooperi)
Golden Cane Palm (Dypsis lutescens)
Birds Nest Fern (Asplenium australasicum)
Rabbit Foot Fern (Davallia Griffithiana)
Orchard zone, fruit trees:
Dwarf Oranges * 2
Dwarf Mandarin
Finger lime (Microcitrus australasica)
Dwarf Lemon
Feijoa (Sellowiana)
Davidson Plum (Davidsonia pruriens)
Tamarillo
Apple (Fuji)– from seed
Fig – Black Genoa (Ficus Caric)
Blueberry – Blue Rose*2 (Vaccinium Corymbosum)
Kiwiberry, (Actinidia Arguta Issai)
Olive – Correggiola
Jostaberry (Ribes rubrum x uva-crispa)
Rangur Lime
Passionfruit
Vegetable garden bed:
Cucumbers
Tomatoes
Artichokes
Strawberries
Silver beet
Zucchinis
Herb garden:
Native Mint bush (Prostanthera ovalifolia)
Sage
Oregano
Thyme
Coriander
Basil
Rosemary
Mint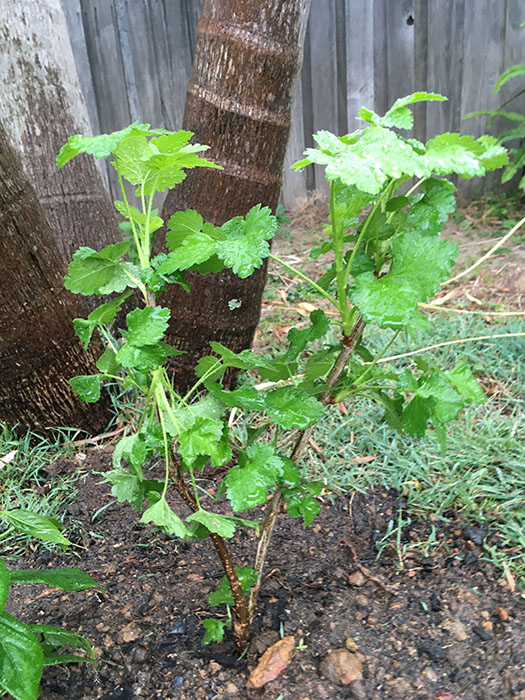 Jostaberry (Ribes rubrum x uva-crispa)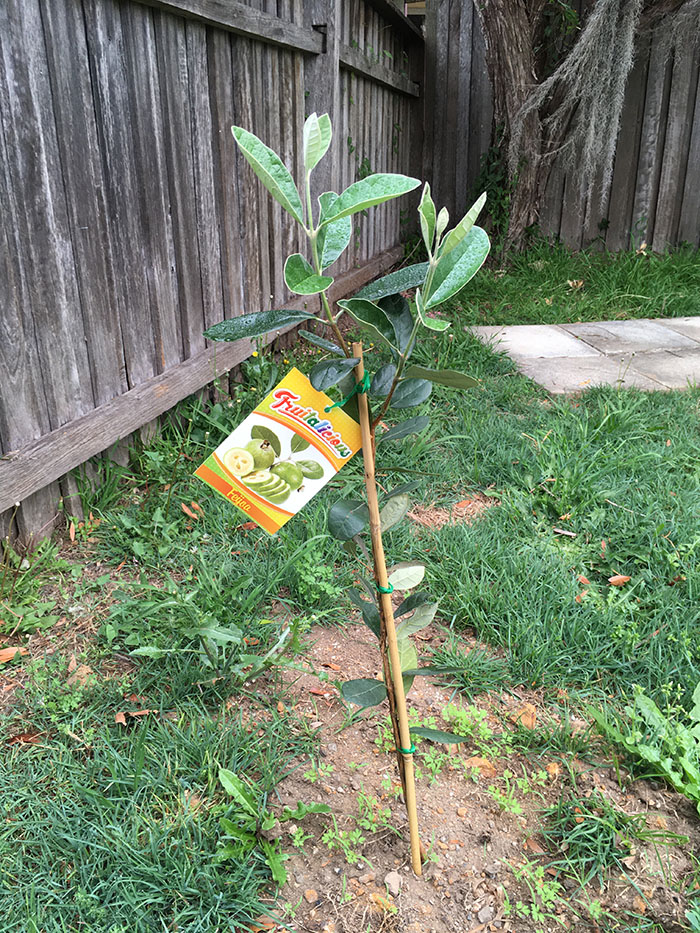 Feijoa (Sellowiana)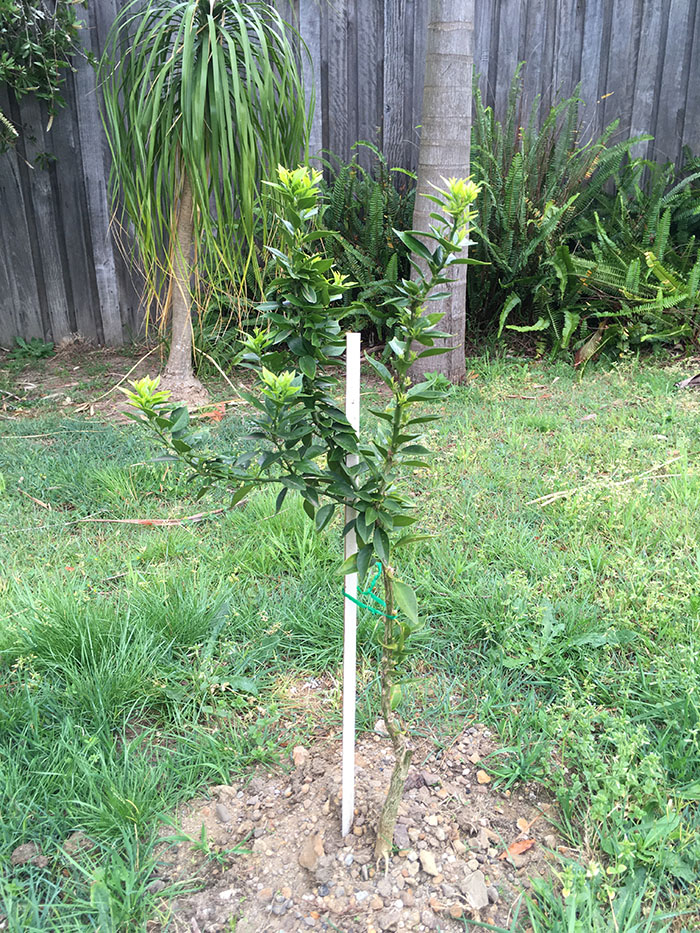 Finger lime (Microcitrus australasica)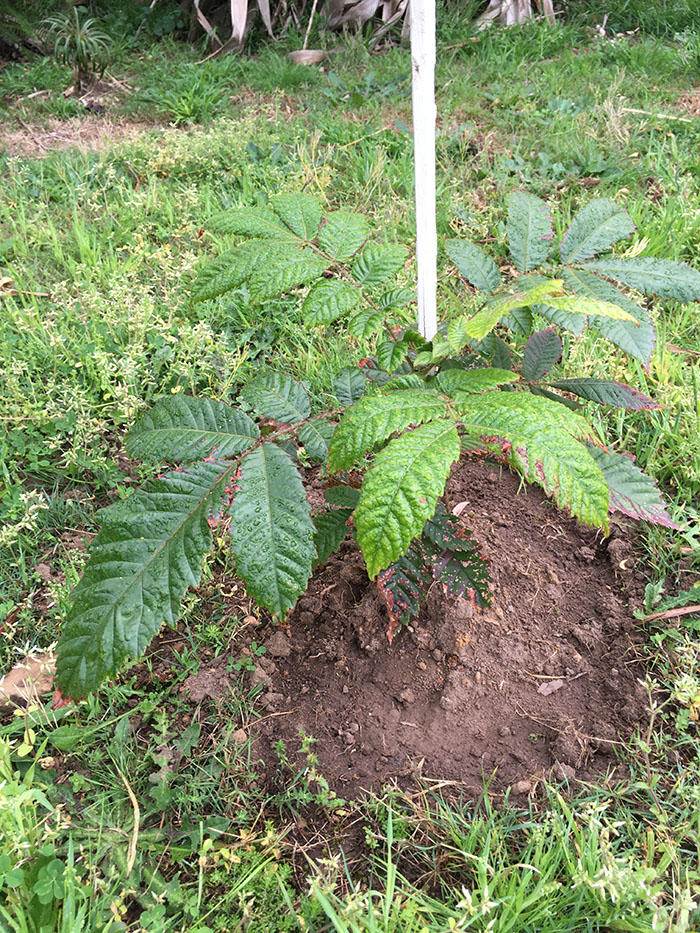 Davidson Plum (Davidsonia pruriens)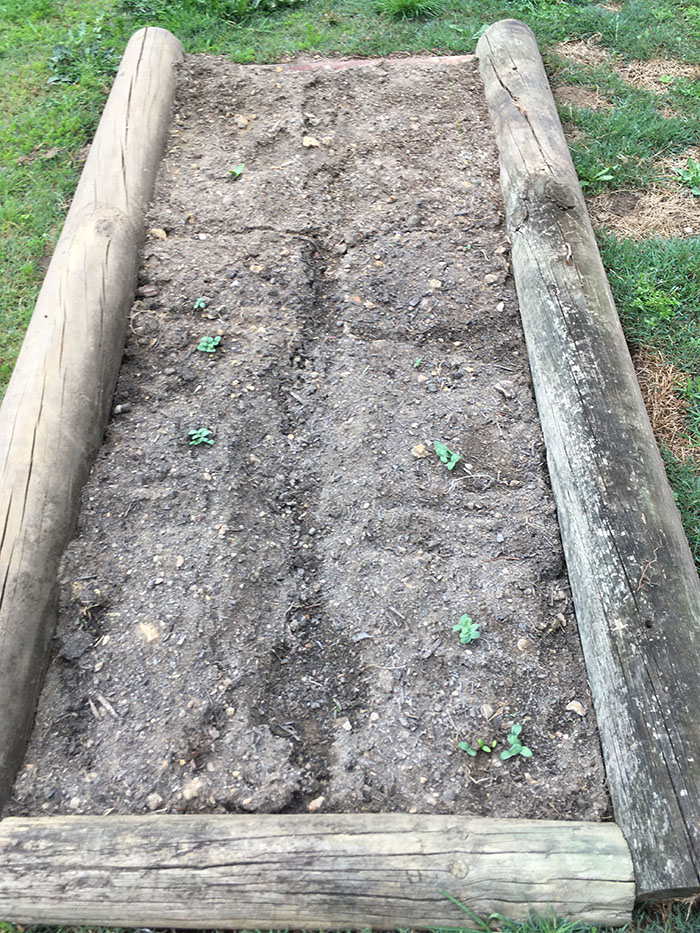 Vege garden bed with sprouting cucumber, shallots, artichokes, zucchini and mystery pumpkin.